The rule of three says that a trio of things is usually more satisfying and easier to remember which is why you'll want to visit this unforgettable trio of tropical islands in Thailand!
Ever noticed how the best things usually come in threes? Like wines: white, red and rose; your favourite trilogy; Toblerone (it's triangle-shaped, stay with me); and that classic decider game (for the last piece of Toblerone perhaps?) of rock, paper, scissors.
There's no doubt that beaches and islands are what Thailand does best and with over 3,500km of coastline and hundreds of islands to explore you won't be short of choice when it comes to beach life.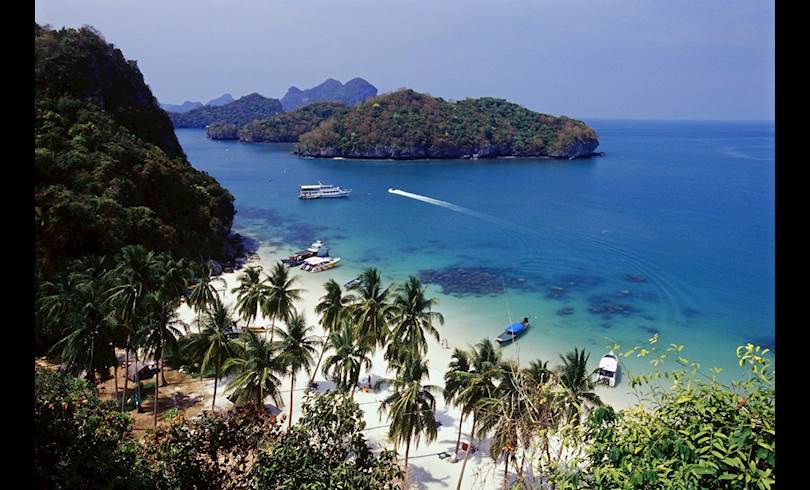 BEST OF THREE
Three of my favourites are in the Gulf of Thailand: Koh Samui, Koh Pha Ngan and Koh Tao. Whether you're looking for a romantic getaway, a jungle adventure, a boozy beach break with friends or the chance to find inner peace by becoming a yogi, these islands have something to offer everyone, in every budget. And if you want a bit of all three, why not mix and match for the perfect island-hopping holiday? With regular ferry services from the mainland (if you arrive by bus or train) and between the three islands, visiting all three in the one trip is a cinch.
GETTING THERE AND AROUND
Your final flight destination will be either Bangkok or Koh Samui. The good news is that there are plenty of ways to get there, with excuses to add stopovers at other cities on the way too. Shop around for indirect flights to Thailand – gulf carriers like Emirates (via Dubai), Etihad (via Abu Dhabi) and Qatar (via Doha) have some great value fares.
If you're a keen bean and just want to get there, hop on board a direct flight from London with either EVA Air or Thai Airways and you'll find yourself landing in Bangkok 11 hours later. Bangkok's capital will be everyone's first port of call, so why not stop in the city for a few nights? I've always described Bangkok as Marmite: you either love it or hate it (I love both), but you need to try it to find out.
Fancy seeing a bit more of Asia on your way to Koh Samui? How about flying with Malaysian Airlines via Kuala Lumpur or Cathay Pacific via Hong Kong, both of which have regional flights to Koh Samui?
If you're reading this thinking "damn! I've already sorted my Thailand plans", no need to panic. You can also fly internally from Chiang Mai and Phuket to Koh Samui so you really can see it all in one trip.
Thailand is such an easy country to travel around; from buses to chartered taxis (yup, you can barter with a friendly taxi driver to take you where you need to be for a fixed price), boats, trains and planes. One of my favourite websites to use when planning a trip is The Man in Seat 61 (seat61.com/Thailand), aka Mark Smith, who has taken the hard work out of searching for train, bus and ferry times and prices – it's well worth bookmarking this page.
Travelling by bus or train, then ferry, to any of the islands is both an adventure and affordable; if you want to see more of Thailand on the way to the beach then this is the way to travel, especially when a first-class sleeper only costs around £30!
If you're a beach lover, and every minute under the sun counts, then there are several flight options to Koh Samui from Bangkok, Chiang Mai and Phuket; check out low cost airlines Thai Smile, Nok Air and Air Asia or treat yourself on Asia's boutique airline, Bangkok Airways, which offers lounge access with free wi-fi, drinks and snacks for all economy travellers. Usually late when it comes to getting to the airport, I always allow extra time when flying Bangkok Airways to indulge in a complimentary hot chocolate and popcorn. Yum!
KOH SAMUI – Coconut Island
The second-largest island in Thailand (after Phuket), Koh Samui has changed a lot in the last 20 years, but it is still one of my favourites. Yes, it's busier than it used to be, but it still has that barefoot feel. It starts with the open-air airport: as you step off the plane you already feel like you're in paradise. I love how easy it is to get around too, only about 60km around the island on a ring road so it's easy to beach-hop and experience the culture and nightlife in different towns and villages. The island is nicknamed 'coconut island' for good reason – and given the number of plantations it has, it's the place to try fresh coconut.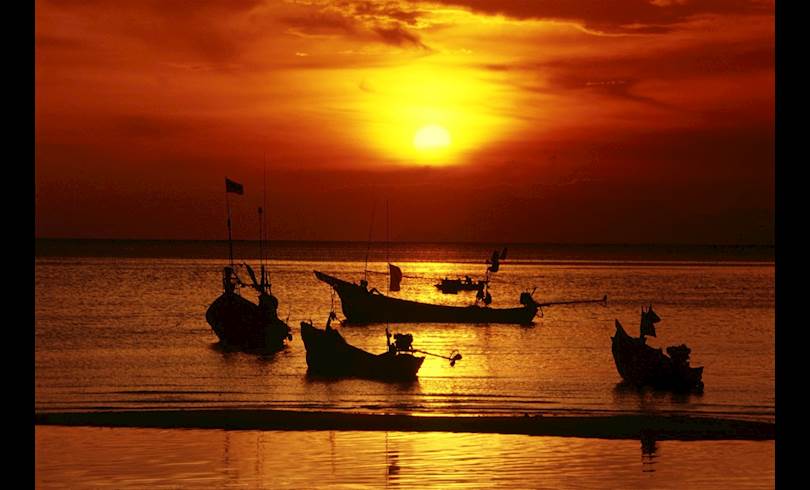 If Koh Samui is the only island you visit, don't worry as you can still have a full range of experiences with its great choice of beaches, attractions, restaurants and bars - from lively to local.
Chaweng is where it all happens: shopping malls, shops, busy night market, hotels, endless restaurants, bars and clubs… it's also considered the most beautiful beach on the island. If it's too busy for you on the main beach, then head to quieter Chaweng Noi. My top tip is to walk along Chaweng beach itself, rather than the main road, as many of the restaurants and bars roll out onto the sand where you can choose from Thai, international and fresh seafood, all under palm trees lit with fairy lights. It's a great way to get away from the crowds and it's easy to cut through to the main road for shopping if you like. Some of my best nights out have been at Ark Bar followed by Green Mango - oldies but still goodies.
Beyond Chaweng the rest of the island is quite tame really, with several lovely beach locations to choose from. Here are my off-the-beaten-track beach favs:
Lamai is peaceful and convenient compared to Chaweng. If you're after a quiet beach to sleep off the night before, but need your hangover cures to hand, everything you need is just steps from the beach, from supermarket snacks to a hair of the dog at a beach bar.
Bo Phut is home to Fisherman's Village, which gives it a charming, local feel. Several cool little cafes, bars, restaurants and trendy shops line its narrow street, and on Fridays during the 'Walking Market', the street is packed with quirky stalls and street food vendors too. Old Chinese shops make for Instagram gold; #nofilter required. No commercialisation here, just a quaint Thai-Chinese atmosphere, candle-lit restaurants and popular sunset spot.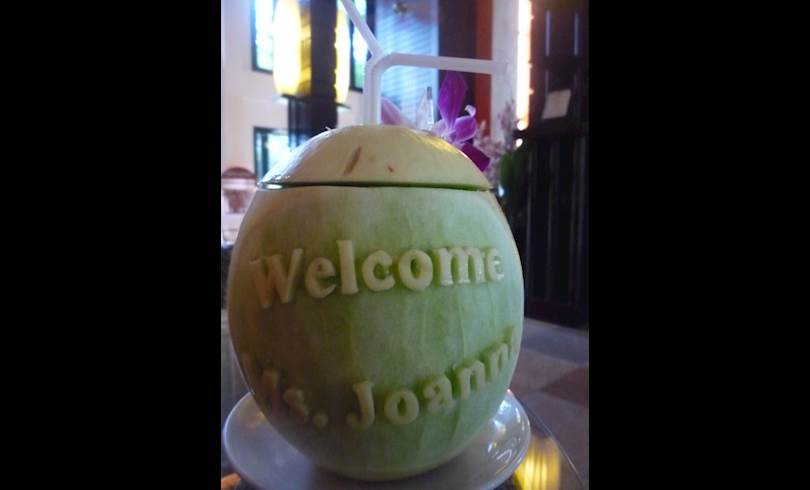 Taling Ngam is tucked away in the southwest of the island and has some of the best views of Ang Thong National Marine Park and other offshore islands. It's also one of the best spots for sunset. This beautiful part of the island has been snapped up by luxury hotels like Conrad and Intercontinental but if you like sipping cocktails and snapping the sunset in style, then head to Aura Lounge and Air Bar respectively. Rather kick back and watch the orangey pink sky, with the sand between your toes? Head to the Island View Restaurant for a much more local Thai experience.
Maenam is still very popular with backpackers, so if you are a solo traveller, or just looking to make friends on your travels, then this is a great place to head for like-minded company. It's a top spot for windsurfing too, if you ever wanted to try your hand, or just kick back on the beach and admire the pros. Not a fan of the sand? If you'd rather cool off in an infinity pool than the sea, the uber cool W Samui is the place to be seen and a spot on the deck is all yours for around £12 (day charge for non-residents), redeemable against food and drink; a no-brainer I'd say. Or head there for 6.30pm for sunset at Woo Bar and keep your eyes peeled for a celeb or two. Alternatively, head to Zanzibar's for a fun, local Thai experience and delicious seafood on the beach under the stars, rather than with them.
Saving the best til last.. Thongtakain Beach. This is our little secret OK?! Seriously, this hidden gem on Koh Samui is one of the most idyllic beaches on the island but isn't widely known by tourists. Its hidden between Chaweng and Lamai, in a secluded spot with powdery soft sand and crystal-clear water that is perfect for snorkelling. Just don't tell too many people about it…
What I love most about Koh Samui is its quirky tourist attractions; where else would you expect to see rocks shaped like sexual body parts (Hin Ta and Hin Yai) and a mummified monk (at Wat Khunaram) wearing Ray-Bans?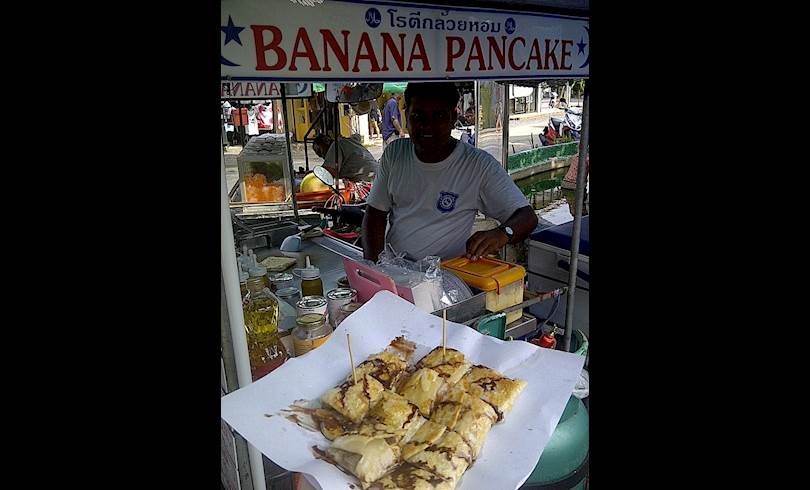 A day trip to Ang Thong National Marine Park makes for a beautiful day's island-hopping in search of idyllic beaches, lagoons and caves. Kayak, snorkel and climb rugged steps to some jaw-dropping viewpoints. You'll be spamming your Instagram feed as soon as you find wi-fi!
If, like me, you're addicted to spas and massage, then Thailand is definitely the place for you. Many hotels have spa facilities you can use as a day visitor and there are plenty of cheap spa shops along main roads but one of my favourite independent spas is Tamarind Springs. This gorgeous spot is set on a hillside scattered with massage pavilions and below them rock pools, a steam cave, yoga sala and café. Every time I go to Koh Samui I stop here for some R&R.
More likely to be found in a spa, or at the bar, I have also been known to take to the boxing ring and try my hand at Muay Thai, Thailand's national sport. Lamai Muay Thai is a great place to try it out or sign up for classes whilst staying on the island. If you're more of a spectator you can watch Thai champions in action at Chaweng Muay Thai stadium.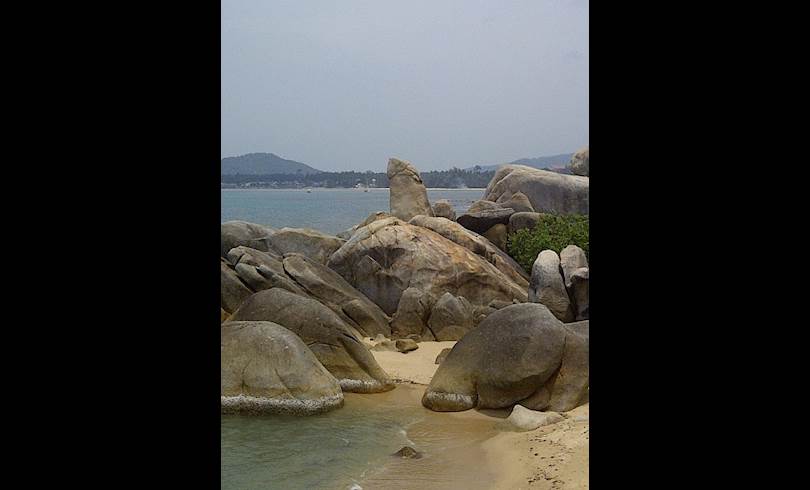 KOH PHA NGAN – Island of Sand Bars
Koh Pha Ngan is best known for its famous (or infamous) Full Moon Parties on Haat Rin beach. If you like to party then this is the place for you, but (and not to sound like your mother!) please drink responsibly, avoid drugs and stay together with your friends. My top tip for a hassle-free Full Moon experience is to arrange accommodation on Koh Pha Ngan around the party, rather than trying to travel back to Koh Samui by boat in the dark.
Don't let the idea of Day Glo-covered party revellers put you off though, as beyond the banging tunes and buckets of booze this island offers a different kind of spiritual experience.
Koh Pha Ngan has a tropical rainforest for those that enjoy nature, beautiful and peaceful beaches and a growing number of spa and wellness places, offering everything from massage to yoga and meditation retreats. Wat Pho is a temple with a free (donations appreciated though) traditional Thai sauna using herbs such as lemongrass to detoxify you - say no more. They also offer an hour of Thai massage for just £3 in the temple grounds. Please remember to dress respectfully, though; this is, after all, a Buddhist temple.
If you're looking for a little off-the-beaten-path peace and serenity then my top tips are Chaloklum Bay, a quaint little fishing village, or Mae Haat beach on the north of the island, which has a unique sandbar where you can literally walk on water!
As difficult as it might be to drag yourself from sipping fresh coconut water in the shade of a palm tree on the beach, there is much more to explore and experience beyond the sun and sand. If you didn't take a day trip to Ang Thong National Marine Park from Koh Samui you can also do this from Koh Pha Ngan. You can also reach Sail Rock and Koh Tao – the biggest dive school on the planet! – as a day trip for snorkelling and diving.
Sailing, windsurfing, kitesurfing and paddle boarding… that should keep you occupied, or to snorkel, you can swim out from a handful of beaches or charter a Thai long-tail boat to take you and a group of mates out for a few hours.
Hiking is a great way to explore the island, follow the popular trail from Haad Rin to Haad Tien if you're not an avid walker, or for the more adventurous, hike through the jungle to isolated Bottle Beach, named after the bottles that are used as markers to guide you there. The best viewpoint on the island is Khao Ra on top of the islands highest hill, or take advantage of free entry to the islands national parks to explore waterfalls and even more viewpoints.
Roads are undeveloped on the island and while this gives it a rustic charm it also makes it risky to get around. It's best to explore by foot, bicycle or Songthaew. Avoid hiring mopeds as they can be costly and dangerous and many of the island's roads are rough terrain and a nightmare when wet!
KOH TAO – Turtle Island
Last but not least, Koh Tao, or 'turtle island,' is smaller than the other two and offers an even more off-the-beaten-track experience than Koh Pha Ngan next door. I love the rustic charm of this island and its iconic boulders that line the coast. The island is particularly popular with Thais, which also says a lot about how beautiful it is.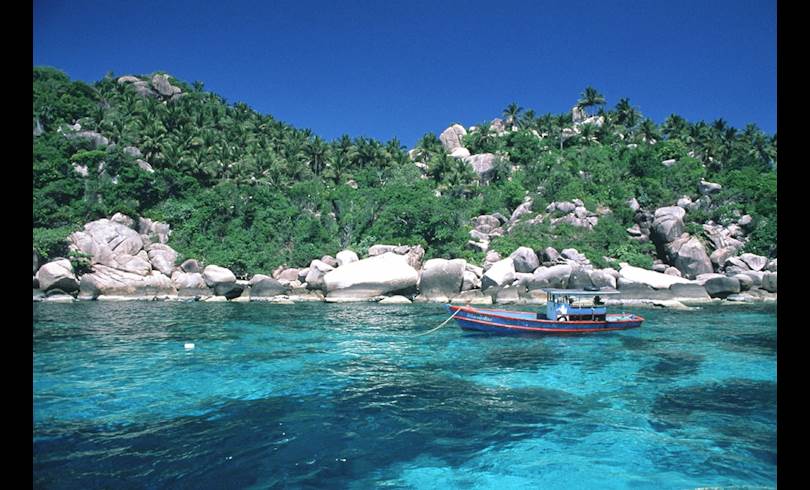 One of my favourite things about Koh Tao is that it is as beautiful beneath the sea as it is on land. It's one of Southeast Asia's most popular spots to dive, especially for beginners - this is where I first learned to dive and it was amazing! With plenty of PADI dive centres to choose from, friendly instructors and excellent value for money this is the place to try diving or take a course.
If you don't fancy full immersion, then you'll still plenty with a snorkel. And, if you care as much about saving the planet as travelling on it, then you'll be interested to know that there are a couple of marine conservation programs you can get involved with on Koh Tao.
Already learnt to scuba dive but want to challenge yourself further? Try a freediving course and take yourself to new depths in just one, deep, breath.
Despite being a small island, and popular for ocean-based antics, there is lots to do back on dry land too. The island's natural beauty lends itself perfectly to hiking and rock climbing, or simply as a beautiful backdrop to a spa massage, yoga course or Thai cooking class.
Just like Koh Pha Ngan, chose your choice of transport wisely; 4WD taxis are a much safer option than trying to negotiate the dirt track roads yourself, or better still take a Thai long-tail boat between beaches (avoiding the mountain roads) for a James Bond-style experience.
Three Top Tips
Stay safe and avoid hiring mopeds on any of the islands: your elbows and knees will thank you later. Taxis and Songthaews are easy to flag down or hire a bicycle for a slower paced 2-wheeled adventure around the island.
Please drink responsibly: alcohol is cheap and abundant but take it easy, pace yourself. Thailand is a holiday of a lifetime and one you'll want to remember, not be a blurry haze.
Avoid elephant camps: there are a few camps on Koh Samui and Koh Pha Ngan but I wouldn't recommend visiting any of them. For a more responsible experience, there are some amazing camps with excellent animal welfare values in other parts of Thailand, particularly the north.
Khob Khun Ka…Thank you for reading.
PS. As for those things that come in threes… wine is expensive in Thailand so stick to beer and cocktails, grab a Toblerone at Bangkok duty-free and play Rock, Paper, Scissors if you can't decide which islands to visit on your next trip to Thailand.
Our Spin Joanna, our Head of Marketing, worked for the Tourism Authority of Thailand for 9 years, clocking up no less than 49 trips to the Kingdom. What Joanna doesn't know about Thailand probably isn't worth knowing! Still in love with the country, its culture, food and people, she is determined to round it up to 50 trips soon.